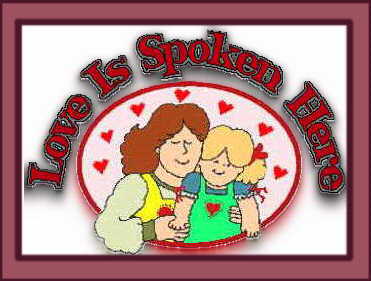 Love is spoken here award
Each month I will give this award to a page that I would welcome in my home. It will be featured here and then moved down to the prior months.
Each of these sites meet these Standards:
1. No pornorgraphy or anything of that type on the page.
2. No Anti anything, including religion, race, etc.
3. Brings joy to the soul.
4. Brings one closer to Jesus Christ.
5. Is something I would return to often because of the wonderful feeling I am left with.
The "Love is Spoken Here" award can only be given out to one site per month. Because of this I have a folder I keep of all applicants monthly. Even if your site is not selected in the month chosen, it can be selected in a future month. (In other words, dont' loose hope). I have two awards that I give out from this site. Only this one has the winner with a feature page, and graphics from their site. If you are interested in the other award from my site also please visit the requirements page of the "Shining Example" page.
Meantime, here are the winners of the award thus far.
Web Author: MORMMOM